Contents
Meet Our Chefs
Meet two of our chefs: Chef Dean Kropp interviews Chef Lou Marfoglia about his food truck project and his chef friends on Staten Island.
Food Access Hub Follow-up
At the Healthy Food Retail Action Network's quarterly meeting on June 22, Barbara Turk, director of the Mayor's Office of Food Policy, talked about the City's research on food access and affordability. The slides from her talk are available here.
Susan and members of City Harvest's Healthy Retail team attended, and at Director Turk's invitation, Susan described the "food access hub" idea that SINFI has been exploring:
An anchor supermarket (see slides 7-10 for the City's ideas on siting affordable supermarkets). Director Turk said that the NYC Economic Development Corporation could help with finding a suitable location on the North Shore.
Smaller food stores, especially ethnic or immigrant-owned, surrounding the anchor store. NYCHA Food Business Pathways graduates might own some of these stores. See https://www.nycedc.com/program/nycha-food-business-pathways for more information about the pathway program.
Greenmarket (possibly as part of an open-air market with a variety of goods) associated with a local urban farm.
Commercial/community kitchen for food entrepreneurs and caterers. SINFI might be able to propose this project for Debi Rose's participatory budgeting program if the kitchen costs more than $35,000 and less than $1 million and can be located in a City-owned building.
Warehouse for storing fresh produce for both retailers and emergency food providers. Note that the community kitchen and warehouse can be designed as emergency resources in cases of natural or other disasters.
Surveys
SINFI plans to create and distribute surveys asking people to nominate their favorite local, ethnic food businesses for a My Plate promotion (to be defined; see below). We hope that the survey results will also suggest a location for the food access hub.
Postcard Surveys
Susan passed around mockups of business-reply postcards to print and distribute this fall and also provided preliminary costs:
Printing (one quote): $402 for the cards, $19.00 shipping, for 2,000 English-language, 500 Spanish-language, 250 Russian-language, and 250 Chinese-language 4'x6" postcards, double-sided (total 3,000).
Postage: $846 for business-return postage for an estimated 2,000 returned cards. The survey will also be available online.
Promotion Program Described
Meeting participants asked what the promotion would be. Susan said that she imagines three levels of promotions:
First phase: SINFI members and student helpers visit all the nominated stores and restaurants to tell them they received a nomination and give them a poster for their window. They check each store against the DOH adopt-a-bodega list (more than 6 fresh fruits or vegetables, low-fat milk, water at eye level in the refrigerators, etc.).
Second phase: A nutritionist and business analyst revisit any store that meets the minimum criteria on the DOH checklist and where the owner or manager is interested in promoting healthy food. SINFI provides them with additional signage, shelf talkers and tear-off recipes, and the appropriate My Plate placemats. There is extensive social media follow-up.
Third phase: There are two options, depending on the business location:

Strong delis or cornerstores that are in City Harvest's Healthy Neighborhood may receive a visit from City Harvest's Healthy Retail staff, for possible inclusion in their program.
Strong delis or cornerstores and restaurants receive awards for fulfilling all the SINFI criteria for a "star" store.
If this approach makes sense to the SINFI team, we will have to set the criteria, create strong social media and publicity programs, and develop a way to continue the program from year to year:
Keep the selected stores supplied with My Plate placemats and new shelf-talkers and recipes.
Add new stores and restaurants each year.
See also the food access hub described above.
Effects of the My Plate Program on Local Businesses
Six marketing department seniors from St. John's University, Staten Island campus, interviewed seven business owners about their experiences with SINFI's My Plate Challenge (Mexican, Peruvian, and West African events) and Showcase (Sri Lankan stores). The students, Bailey Cammarano, BriAnna Esposito, Briana Marino, Alyssa Merolo, Emante Washington-Mobley, and Caitlin Panarella, ran the study from January 20, 2017 to April 20, 2017.
Here is a summary of their recommendations:
Our suggestion for City Harvest's MyPlate Program is two fold:
Cross promote business owner participation through various mean of distribution (i.e. paid social media plan, press outlets native to Staten Islanders, and partnering with other local businesses)
Utilize our marketing research to first learn consumers' knowledge of the MyPlate Program and how to increase knowledge and awareness for our two target audiences
Click here for the complete report.
Survey Information
The students also surveyed two local populations, participants in the Trinity Lutheran soup kitchen and St. John's students, about their knowledge of and interest in the My Plate ideas. There are some interesting similaritie and differences:
Quality is important to both groups.
Cost was more important to the soup kitchen participants.
The soup kitchen participants were more interested in shopping tips and demos than the students.
Neither group was familar with the My Plate guidelines.
Healthy options were more important to the soup kitchen participants than to the students.
For all the data and the survey questions, click here.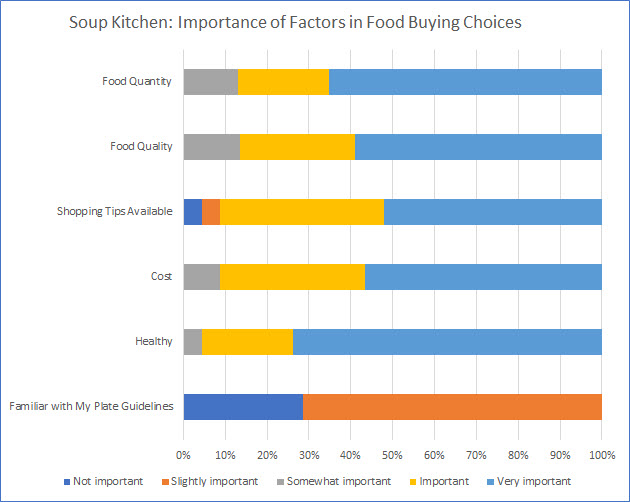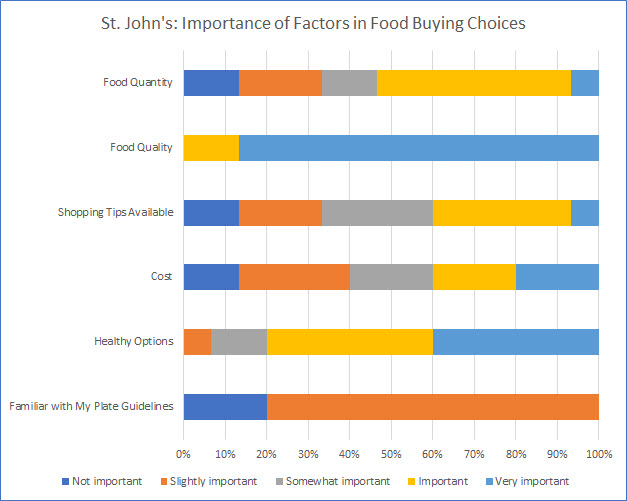 Sample Our Chefs at St. George Day
St. George/Earth Day is Saturday, April 22, 2017, at Tompkinsville Park, Bay Street and Victory Boulevard, from 11 a.m. to 5 p.m.
For the first time this year, between noon and 1:30, our SINFI chefs, plus two of City Harvest's Healthy Retail stores, Lanka Grocery and Mecca Mart, will offer samples of their international cuisine.
Here's the line-up:
Come check out our table, and beware of dragons!
Review, Regroup, Reboot
The Story So Far
SINFI's Goal: Every North Shore neighborhood will have a store, deli, or bodega that provides fresh local fruit and vegetables so that anyone can follow the My Plate recommendations. The people living in the neighborhood will know where these stores are and support them. Restaurants can also offer My Plate dishes.
Since January 2017, SINFI has held meetings with the business experts and nutritionists in our group. We also held a meeting with two local organizations that specialize in workers' co-ops and can provide start-up advice and funding.
St. John's University marketing students have interviewed the chefs, bodega owners, and restaurant owners with whom we worked over the past three years. Their goal is to find out what worked and what didn't during the My Plate Challenges, and then to develop a marketing plan for the stores and for SINFI as a whole.
The Food Business Landscape on Staten Island
Business Think Tank Meeting, St. John's University, Staten Island, Jan. 11, 2017
Introduction Highlights
John Amodio: Long-time SCORE volunteer advisor on Staten Island.
Raul Barrios: Manager, Food Retail, for City Harvest (CH), concentrating on cornerstore and bodega produce makeovers.
Robert Fanuzzi: Promoter of service learning at St. John's University, Staten Island. See http://www.stjohns.edu/academics/bio/robert-fanuzzi. He has involved students with the SINFI and City Harvest (CH) projects for six years.
Susan Fowler: Manager, Community Engagement, Staten Island, for CH and director of SINFI.
Dean Kropp: Chef, baker, organizer of the U.S. team for the Culinary Olympics 2016, and long-time CH and SINFI volunteer.
Bianca Palumbo: Nutrition Educator for CH, SI Performing Provider System (an Affordable Care Act group; see http://statenislandpps.org/), and the Department of Health and Mental Hygiene.
Christa Perfit: Manager, Retail Partnerships, for CH and a member of the NY Healthy Food Retail Action Network. Works with cornerstores on WIC, SNAP eligibilities, stoop permits, etc.
William Reisel: Professor of Management at the St. John's Peter J. Tobin College of Business. See http://www.stjohns.edu/academics/bio/william-d-reisel-phd. He has college and high school students who might be able to survey businesses identified by SINFI for levels of fresh produce and for general business acumen.
Ben Santlofer: NYC Business Solutions senior account manager at the Staten Island center. Much of his work involves getting small business owners away from predatory "pay day" lenders. He also walks business owners through loan, MWBE, and other applications, and arranges for pre-inspections from other city agencies to help businesses get up and running faster and avoid fines. The center now has 10 to 12 people walking in every day. His office also canvasses businesses by walking through neighborhoods.
Robert Stein: Business expert for SINFI who has met with nearly all the business owners involved with the My Plate Challenges. He wants to make sure that Staten Island gets all available city funding.
CH and SINFI History on SI
City Harvest's Healthy Retail program on Staten Island includes six cornerstores, a superette, and two Met Foods supermarkets. Mexico Azteca and Broad Street Supermarket on Broad St., Lanka Grocery on Victory Blvd., and Plaza San Jeronimo on Port Richmond Ave., are star stores—they've received free equipment and cash grants from CH and have shown significant increases in produce sales.
SINFI was started three years ago when CH staff and volunteers noticed that neighborhoods that, at first glance, looked like food deserts (or food swamps, filled with fast food) sometimes had delis or bodegas with very good fresh produce. However, since the language in the windows was Spanish, Arabic, Sinhalese, or another foreign language, the English speakers in the neighborhood would not visit the stores. SINFI decided to try to introduce the neighbors to the stores and vice versa.
To that end, SINFI has run two My Plate competitions in the Mexican/Peruvian community of Port Richmond and the West African community around Park Hill. Cornerstores, restaurants, and caterers have been involved in the competitions. SINFI also videotaped two Sri Lankan business, the San Rasa Restaurant and Lanka Grocery in Tompkinsville.
Suggestions from the Jan. 11 Meeting
Bob Fanuzzi:
Wrap the program around neighborhoods; make sure that we talk about food as a catalyst, as placemaking. We need a food hub (an "anchor tenant" like a supermarket) surrounded by a spine of businesses. There are lots of design opportunities if we work at the neighborhood level.
For a successful SINFI neighborhood, we need:
Successful placemaking—investment, press, a demo project, etc.
Common space for entrepreneurial trade, like a communal/commercial kitchen
Merchant organizing—food builds a community
Bob identified three actions for SINFI to take:
Expand outreach with CH
See if St. John's accounting professors and students can work with the businesses we identify
Create public programs—warm-weather events around food.
Bob Stein and John Amodio:
Be careful to pick businesses that are really interested and capable. "They have to be able to meet you at least 10 percent of the way," Bobby said. John has criteria he used to pick the clients he's willing to work with, too.
Bob asked Ben and John if minorities ever get funding from traditional lenders. Ben was noncommittal but John said no, because they often can't show that they're making money. In a mostly cash business, you don't make bank deposits.
John Amodio:
He said he was impressed by the CH program and didn't know it existed. However, he said, if you get more businesses interested in the program, you might fail because CH doesn't have enough resources—CH has only one Raul. "Let's try to find 200 businesses but get other people to help"—for example, college and high-school students with an interest in business.
Bill Reisel:
Why not have Raul do a series of short, on-site, YouTube videos about how to manage a produce section? This might be an easier sell than asking bodega owners to come to a class, and it's a way of cloning Raul.
Action Items
Christa: Take the YouTube idea to the consultant creating the bodega training classes. Send everyone the CH resource guide for bodegas (done).
Bill Reisel and Bob Fanuzzi: Set up a meeting of all business professors who might want a part of this project with the SINFI experts.
Susan: Invite everyone to the phone meeting with The Working World and NEBHDCo on Friday (done).
An Alternative Way of Running a Business: Workers' Co-ops
NEBHDCo and The Working World, phone meeting, Jan. 13, 2017
Smiley Rojas-Nunez opened by describing The Working World. The Working World is a non-profit that offers funding and technical assistance to workers' cooperatives. Their goal is to build local co-op businesses.
Karen Haskins added that the organization started in Argentina and now has projects throughout Nicaragua and the U.S. as well. The organization looks for partners in the places where they hope to set up community-based programs.
Christa Perfit described City Harvest's Healthy Retail program as an initiative to increase the produce capacity of local stores and business hygiene in general.
Ashleigh Eubanks described the Brooklyn project on which TWW and NEBHDCo partnered: In 2015, a 10-week academy, held every Monday night in Bed-Stuy, on small business planning with a focus on workers' cooperative businesses. Of the 35 participants, three businesses wanted to do more and are continuing to work with TWW and NEBHDCo on their businesses. They have loans with two of the three businesses (Bed-Stuy Fresh and Local, Brooklyn Packers, and Skedaddle Pest Control). For more about the businesses, see http://fieldguide.capitalinstitute.org/bed-stuy-fresh-local.html and http://www.theworkingworld.org/us/loans/loans/1270.
TWW meets with the stores once a week or once every two weeks. TWW and NEBHDCo also created the Bed-Stuy Cooperative Business Project, which is currently brainstorming ways to connect with local businesses. The steering committee has a media group, a "pipeline building" group that focuses on ideas for connecting with local businesses, and a "co-op promotion" group that works with the worker-owner members of the steering committee on how to promote their cooperatives.
The steering committee is composed of people who went through the academy, the businesses they're still working with, and local community-based organizations such as NEBHDCo, Restoration, and the Bed-Stuy BID. The committee has 10 members.
Q&A
Q: When do you run the Academy?
A: The last training with NEBHDCo was two years ago. There is no regular programming, but rather a shift to working individually with the co-ops themselves.
Q: How did you get people to come to the Academy? Business owners are notorious for not leaving their stores.
A: The sessions were 6:30-8:30 p.m. on Mondays. People who had small businesses or wanted to start businesses came. The Bed-Stuy classes were Business 101, not so much about co-ops, but the attendees were curious about the legal aspects of switching from a traditional business to a co-op business.
TWW is now working with a school, and there they go to the school itself and train them during their lunch hours, before school starts in the morning, etc. Ashleigh said that NEBHDCo has held two meetings with their community board, which should be a key partner in finding interested businesses. They've had one meeting with small business owners at the Pfizer Building as well. (See Food Start-Ups Find a Home in Brooklyn.)
Q: How do you pick clients?
A: Karen: Some people need very little help but others need a lot, around financial literacy and funding, for example.
Smiley: There are two types of businesses, startups and conversions. Startups can be difficult because there is no guarantee that the service or product that the business plans to sell will do well in the market. Since it can take a considerable amount of time for a new business to become recognized and gain a reliable stream of clients, worker owners need to be aware of this and know not give up on the cooperative because of the initial struggle of getting the business off the ground. With traditional businesses looking to convert to worker ownership (conversions), you're working with a business that is already functioning, where the workers already know their roles and what to do so that the company can continue to function. What can make a conversion difficult is that the owners might hold key roles—once they leave the business, the co-op has to find individuals within the company or outside the company that can fill those roles.
Q: Do you do general business consulting or only co-op?
A: Only co-ops. So we don't just talk about business plans but how the business would be set up as a co-op.
Q: Are there any resources the SINFI business advisors might be able to use?
A: Here are some:
Nutritionists Are Key
Nutritionists Meeting, SIUH, Staten Island, Jan. 18, 2017
Introductions and Overviews
City Harvest nutrition activities on Staten Island in 2016-2017:
Bianca Palumbo, who works for City Harvest, the NYC Department of Health and Mental Hygiene, and the SI Performing Provider System (SIPPS), has been running nutrition classes and consulting as a nutritionist in pediatric offices and other locations on the North Shore. In addition, she has been managing and sometimes running cooking demos, train-the-trainer classes for the Share Our Strength 6-week cooking classes, and Mobile Market referral cards. Note: City Harvest's Mobile Markets are free, farmers-market-style distributions in Mariners Harbor and Stapleton. In season, on-site cooking demonstrations offer recommendations on how to cook with produce. Contact Susan Fowler for more information or to get flyers to distribute to your clients: sfowler -at- cityharvest.org.
City Harvest has been working with Beacon Christian Community Health Center and Comprehensive Pediatrics to "prescribe" fresh produce to their clients who are suffering from obesity, diabetes, heart disease, and other results of poor nutrition. Dieticians and doctors at these locations hand out referrals to the Mobile Markets and track the results over time. Kevin Handsman, nutritionist at Beacon Christian Community Health Center, described the Beacon program.
Susan Fowler talked about two sites, Port Richmond High School and the West Brighton NYCHA houses, that pick up produce from the Mariners Harbor Mobile Market for redistribution at their locations. City Harvest is thinking about these programs as pilots for additional redistributions.
Lisa Pere, a long-time City Harvest volunteer, talked about her experience at the Mobile Markets and at City Harvest Healthy Shopping Event Days. For these events, City Harvest sets up four stations (produce, dairy, protein, grains) in a local supermarket and shares tips on how to buy healthy foods on a budget while also demonstrating healthy recipes at each station. People who visit all the stations can receive a free cookbook, reusable bag, and $10 gift certificate at the end.
Other nutrition-related programs:
Jody Stoll, SI Partnership for Community Wellness, talked about the School Garden Summit coming up on Friday, March 17 (St. Patrick's Day). At least 50 percent of all schools on Staten Island have shown interest in setting up gardens on their premises, she said. Once the gardens exist, the schools will want to show the students how to cook with the herbs, fruit, and vegetables they've grown.
Nan Smith, manager of the St. George GrowNYC Greenmarket, talked about the greenmarket and the cooking demos held there. The market is now open all year long, and people can use HealthBucks, which are $2 coupons from the NYC DOHMH, to buy more produce. SNAP customers get HealthBucks automatically when they use their SNAP benefits.
The Stapleton market is one of four markets in the City running a randomized control trial in which SNAP recipients can double their HealthBucks by being part of an online survey-driven study. This is a nationwide federally funded program managed through the University of Delaware and Wholesome Wave.
Organizations can apply for free HealthBucks to pass out to their clients. See https://www1.nyc.gov/site/doh/health/health-topics/health-bucks for the application.
Jacqueline Torres, Northwell Health, handed out culturally sensitive My Plate placemats from The Institute for Family Health that Northwell/SIUH has reprinted. See to see all the plates. Contact Jacqueline to get copies for your clients.
Dr. Ginny Mantello, director of Health & Wellness in the Borough President's Office, described the SI Childhood Wellness initiative and talked more about the SI PPS. The childhood wellness initiative will work to reduce BMIs and obesity among children from pre-school to age 18 in all neighborhoods of Staten Island.
Workgroups are forming now in areas where interventions are likely to be helpful, and Healthy Food and Active Design is one of the areas. Nutritionists working in health centers can join the workgroups (check whether your organization is already involved and if yes, see what you can offer the in-house project).
The SI PPS comes out of the Affordable Care Act--NY State offered $7 billion to Medicaid providers for health-care reform, and SI PPS rose to the challenge on Staten Island.
Among other initiatives, SI PPS has worked to reduce the number of patients coming repeatedly to emergency rooms and has set up care coordination with the help of SI Cares, Make the Road, and other organizations. Care coordinators work with patients as soon as they released from the hospital to make sure that they have appointments with all the providers that they need and that they have transportation to appointments. The coordinators also visit the patients' homes to check for such things as asthma triggers (dust, cockroaches, etc.) and cooking facilities.
For more information about the impetus behind the SI PPS program, see the article by Atul Gawande in the New Yorker, "Annals of Healthcare: Overkill."
Susan Fowler talked about the Staten Island Neighborhood Food Initiative (SINFI). The program started three years ago with a Port Richmond My Plate Challenge: Mexican and Peruvian delis and restaurants competed to have the tastiest plate that met the USDA My Plate recommendations. This was followed by a West African My Plate Challenge, where five West African cooks made My-Plate-style African dishes. In 2016, SINFI did videos at Lanka Grocery and San Rasa Restaurant, both run by Sri Lankan entrepreneurs.
This year, SINFI plans to engage as many North Shore delis and restaurants in the My Plate and City Harvest's Healthy Retail programs as possible. Nutritionists have been key to the program for the past three years and will be needed to advise this year's stores on their plates as well.
Who needs what, when, in 2017

What
Who
When
Work with school gardens and/or schools (childhood wellness projects)
SI Partnership for Community Wellness/Dept. of Education, Jody Stoll, 718 226-0255
School Garden Summit March 17; work in schools later in the school year
<
Policymaking and hands-on nutrition education for children
SI Partnership for Community Wellness, Erika Larsen, 718 215-8302
Monthly meetings
Share Our Strength (SOS) cooking classes in-house or at daycare, after-school, or senior centers
City Harvest, Bianca Palumbo, (917) 656-6880
Train-the-trainer courses as needed; the 6-session SOS course is generally given once a quarter
Send clients to the Mobile Markets (referral cards)
City Harvest, Bianca Palumbo, (917) 656-6880
Anytime
Healthy Shopping Event Days at local supermarkets—volunteer at a station
City Harvest, Julieta Velasco, 646 412-0711
Twice a year
Find potential My Plate delis, bodegas, and restaurants
SI Neighborhood Food Initiative, Susan Fowler, 646 412-0721
Anytime
Consult with My Plate delis, bodegas, and restaurants
SI Neighborhood Food Initiative, Susan Fowler, 646 412-0721
March through June
Send clients to the greenmarkets, promote HealthBucks
GrowNYC, Nan Smith, 646-715-9650
Anytime
Order My Plate placemats to give to clients
SI University Hospital, Jacqueline Torres, 718 226-2486
Anytime