The My Plate Challenge: West Africa
My Plate Challenge: West Africa was held on Saturday, May 30, 2015, at the YMCA New Americans Welcome Center at 285 Vanderbilt Ave. The five competitors offered samples to the attendees. The judges included:
Ed Canlon (Chopped competitor)
Pierre Thiam (Iron Chef)
Eva Forson (City Harvest volunteer nutritionist)
David Hernandez (constituent services director for Councilwoman Debi Rose)
Rob Burmeister (Chopped competitor)
Clem Caserta (Hells Kitchen competitor)
FIRST PLACE:
Lara Olubunmi (Nigeria)
Wazobia Restaurant, 611 Bay St., 718 682-1781.
Spinach, jollof rice, oxtail.
Spinach:
Lightly seared spinach with onions & locust beans
Jollof rice:
Pilaf made with rice, onions, tomato sauce, and spices
Oxtail:
Beef with African sauces and spices to taste.
SECOND PLACE:
Eloise Hayes (Liberia)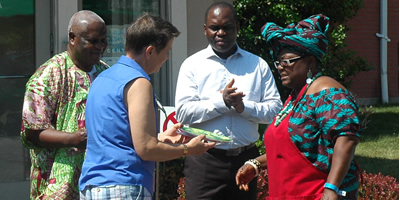 Sugar Lump's Plate, catering: 347 522-8461.
Potato greens, check rice with palava leaf sauce, gravy (tripe, turkey, goat, chicken, fish, shrimp)
Potato Greens:
Sweet potato leaves
Red palm oil
Hot pepper
Special seasoning
THIRD PLACE:
Helen Sona (Cameroon)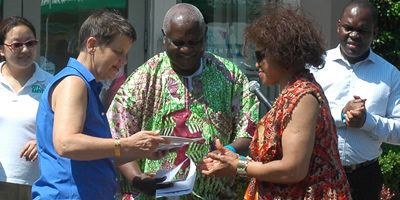 Yohngema's Elegant Treasures, 492A Port Richmond Ave., 718 273-6525
Cameroonian shrimp veggie delight, fried yellow plantains
Cameroonian shrimp veggie delight:
Broccoli coleslaw mix
1" shrimp
Habanero peppers
Mixed vegetables
Red onion
Mushrooms
Ginger
Garlic
Dubé (black pepper)

PEOPLE'S CHOICE:
Bernice Momo (Liberia)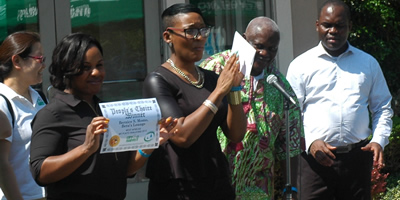 Betu's Lounge, pick-up, delivery, catering: 718 524-5075.
Steamed string beans & carrots, check rice with fresh blended spinach & okra, cubed chicken breast with gravy
Gravy:
Fresh tomatoes
Vidalia onions
Scallions
Sweet red & green peppers
Olive oil
Ground black pepper
HONORABLE MENTION: Hawa C. S. Chea (Liberia)
Chea and Chea Food Center, catering, pick-up, 718 838-0022.
Liberian cole slaw, check rice with okra and spinach, gravy with beef meatballs
Liberian Cole Slaw:
Shredded cabbage
Cucumbers
Tomato
Vinaigrette dressing